According to a 2017 report by Edison Research, 65 million Americans listen to podcasts MONTHLY! Of those, 18% say they listen to most, if not all, of an episode. Which means that, not only are they listening, but they are also listening intently. Podcasts represent an amazing, though many times overlooked, opportunity for affiliate marketing. Both advertisers and affiliates alike ponder if those listeners can successfully be converted into buyers. Based on my experience as an affiliate manager, my answer is a resounding yes.
Podcast affiliate marketing generates amazing commissions and ROI when used with the following 10 tactics.
10 Tips for Monetizing Podcasts with Affiliate Marketing
1. Don't count your eggs before they hatch
People listen to podcasts for knowledge and value. Be sure to build your audience prior to implementing affiliate marketing campaigns. I recommend a minimum of 20 episodes before testing affiliate marketing. My top performing podcast affiliates have completed 50+ episodes of their show before launching one of our affiliate campaigns.
Here are four general tips about how to start your podcast:
Be passionate about your subject
Be sure you've already earned your audiences' trust through previously shared expertise
Invest in a good microphone. A quick way to lose credibility is to have bad sound quality Here is a great article on The Best USB Microphones
Do your research and seek out recommendations from the experts. The Podcast Host is a great place for beginners to start. This curated article from The Marketing Experts provides quick tips on everything from creation to rankings to promotion.
2. Know your audience
Similar to other affiliate marketing tactics, a niche audience translates to higher conversions for affiliate marketing. It is important to take the time to get to know your audience and what they are interested in. A barometer for interest would be the popularity of specific episodes.  For example, one of my TeloYears affiliates, who is successful with affiliate marketing, saw an interest in at home tests with his audience. It was no surprise then that his subsequent campaign generated sizable commissions for him.
3. Make it personal
Do not promote what you have not personally used. Your podcast listeners are there for your advice. A successful podcast affiliate campaign will include personal experience with pros and cons of the product. To further create a connection with your audience, ask your merchant if they are available for an interview on your show. This creates a personal experience between the audience and brand as well. Podcasts generate great exposure for brands so this is a good option for creating evergreen content that will keep generating revenue.
4. Simple Calls to Action
18% of people typically listen to podcasts in their car, so your call to action needs to be compelling and simple. A unique coupon code and discount always work great, but free gifts also convert well. Your call to action should also be connected to your tracking. If you do not have a coupon code that tracks your sales, your call to action should be to visit the show notes or landing page.
5. Affiliate link in show notes
While this may seem obvious, I am amazed at how many times this simple strategy is overlooked. Be sure to include your affiliate links in your show notes, or at a minimum, include the link to your landing page. In the example below, Nom Nom Paleo illustrates how to include affiliate links in show notes. The blue hyperlink goes directly to Amazon.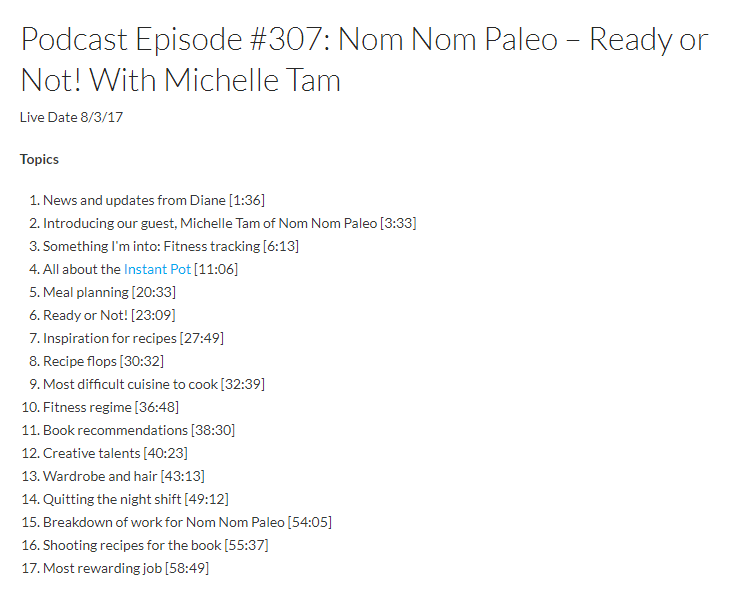 6. Create a unique page for the campaign
Your landing page should provide additional information about the campaign. Create an easy to remember URL such as: yourdomain.com/brandname. My recommendations for creating a landing page include:
Place your affiliate links on the top of the page. You want the listeners who are ready to purchase to be able to find the link quickly.
Provide additional benefits for the product or services. Added value or even a review of what you covered in your podcast can help close sales.
Include selling points such as testimonials and any discounts.
Let your listener know that, by clicking on your links, they are supporting the continuation of the podcast.
Dr. Chappus and Marni Wasserman of The Ultimate Health Podcast do a great job at promoting their affiliate partners within their podcast by sending their listeners to an easy to remember landing page. As you can see, it does not need to be fancy to be effective. The only change I would recommend for this page is adding a call to action at the top of the page.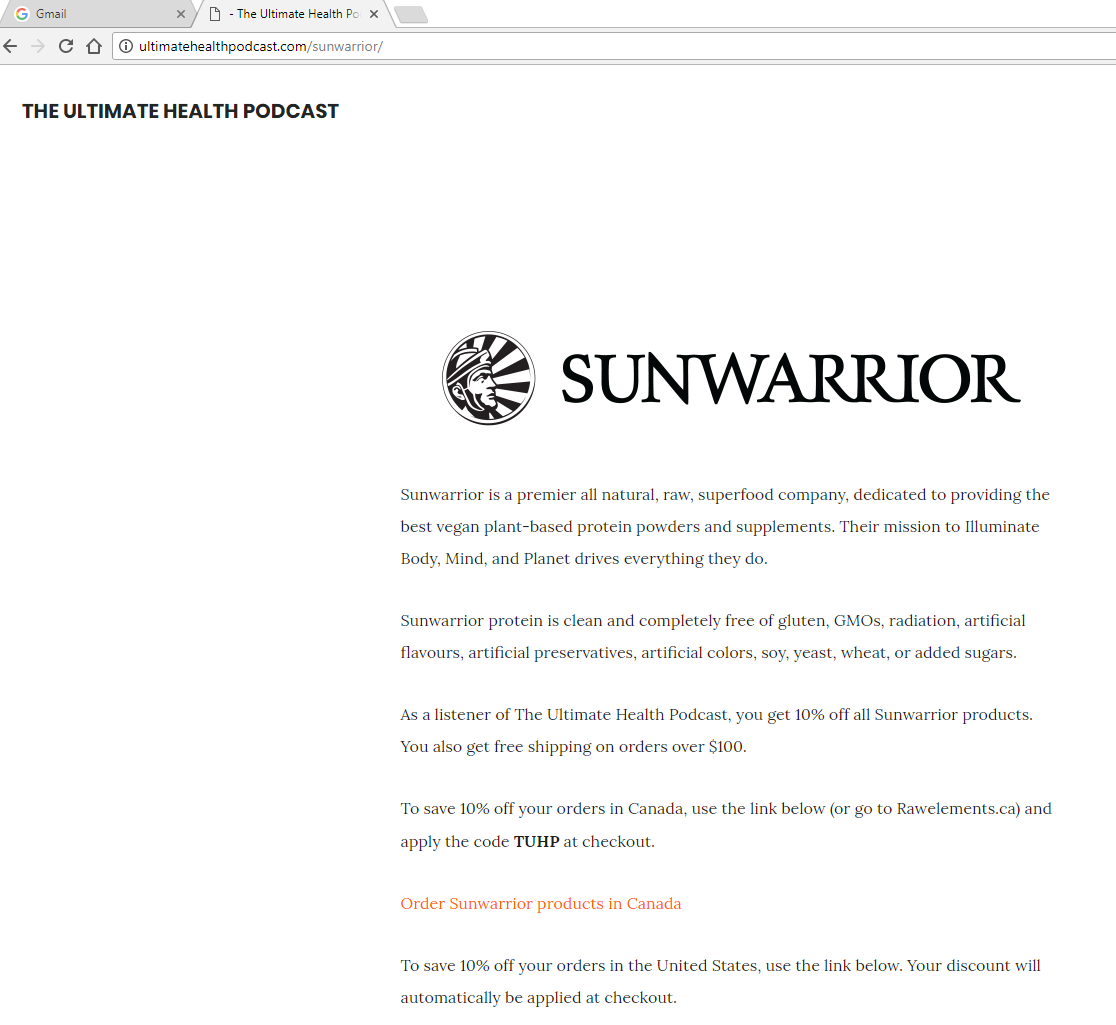 7. Shout it out
Don't rely on your podcast for all your affiliate promotions. Instead, leverage social media channels to get the word out. Facebook Pages and Groups provide the best conversions for affiliate marketing. You can do multiple promotions including a pre-podcast announcement to build excitement and a post-podcast share to encourage listeners to engage with you online. Below is a great example from Max Lugavere of a social media share for his TeloYears affiliate post.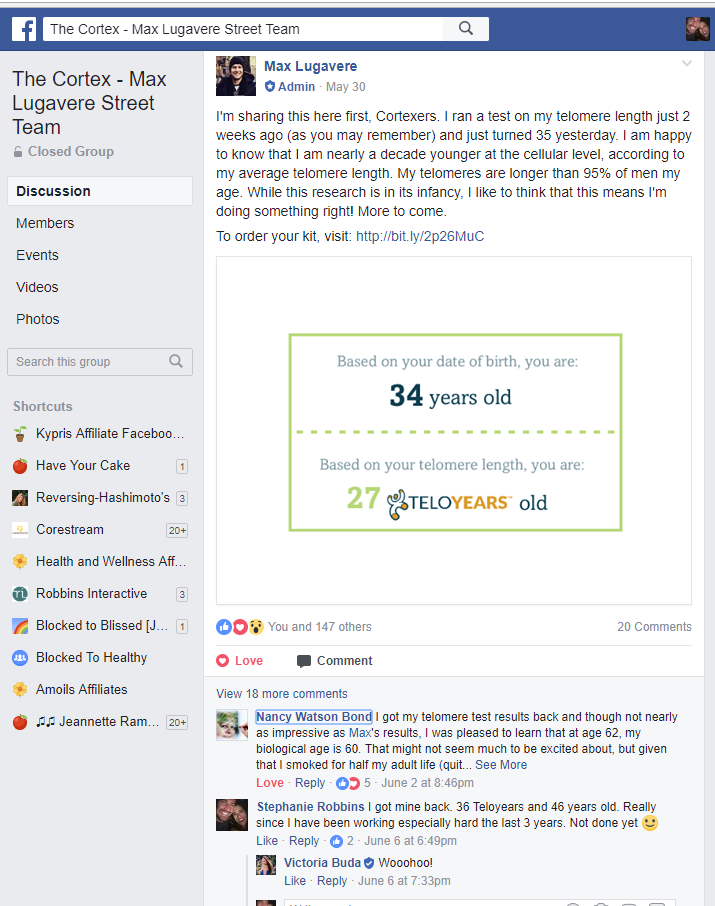 8. Engage
Notice in the example posted above from Max that there are 20 comments on the TeloYears post. Engagement with your audience is crucial to success. In your podcast, encourage your followers to continue the conversation on your social media channels.  And don't engage only when you launch your podcast, check in with your audience periodically to see if anyone has purchased the product or to share your long term results.
9. Disclose your affiliate links
Just as with an affiliate social media or blog post, you need to disclose your affiliate links in your podcast as well. You should disclose your relationship with the merchant during your podcast. Many hosts simply take an advertising break to announce their sponsors. You should also have a Sponsor section in your notes like in the example below.

10. Be patient
Affiliate marketing is a skill that needs to be tested and refined. Test different products, merchants, and outreach campaigns. It is well worth the effort since your podcast will live online forever. The passive income opportunities continue beyond your first episode.
Podcasts are an amazing tool for both your brand and affiliate marketing. With perseverance, testing and consistency, your podcast can become a consistent provider of affiliate marketing revenue. Are there any tips I missed? I would love to hear your experience with affiliate market