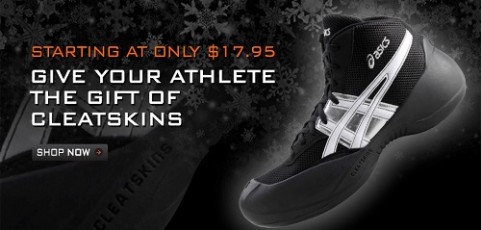 Looking to promote the perfect gift for the athlete in your life? Whether you have a golfer, wrestler or soccer player, Cleatskins is an unique and practical gift sure to make your special athlete smile.
What is Cleatskins?
Cleatskins covers all cleated shoes and wrestling shoes. Wait, wrestling shoes don't have cleats? We know silly! However, it is really important to keep the bottom of wrestling shoes clean so germs don't get brought onto the wrestling mats and spread disease. And those cleated shoes, Cleatskins keeps from tracking dirt, protects the cleats for high performance and makes them slip proof. Pretty sweet for prices as low as $17.95.
Here is a short video to explain how Cleatskins works.

How do I promote Cleatskins?
First you need to be an affiliate. You can sign up Shareasale
Next contact me to get a pair of Cleatskins to test out if you haven't done so
Then write your experience in a blog post or on your website
Shout it out to the world on Snapchat, Facebook, Facebook Live, Instagram, etc
And since it is the season for coupon codes, use the code Turkey from 11/23-11/29 to increase your conversions
Compensation
$5 per pair of Cleatskins you sell
One time $25 bonus when you reach 5 sales by December 25th